Internet Accessdedicated servers - cloud vps - web domains - ddos firewall protection
Interconnection equipment
---
Arista 7280R with 6 100Gbps ports + 48 10Gbps Networking ports
Arista 7280S with 4 40Gbps ports + 48 10Gbps Networking ports
Arista 7050QX with 32 40Gbps Networking ports
Arista 7048 with 4 10Gbps ports and 48 1Gbps ports
Mellanox SB7800- 2SFR Infiniband with 36 EDR InfiniBand QSFP 100/56/25 / 10Gbps
A10 Networks TH5430S CFW Load Balancer with 4 40Gbps ports + 16 10Gbps ports
Fortigate 1500D Firewall
Benefits of accessing the Internet through our network
The Internet access service offered by our company is a premium solution that offers a high-speed, symmetrical, unshared and guaranteed connection, with guaranteed performance parameters.
Optional services: Firewall, Load Balancer and DDOS protection.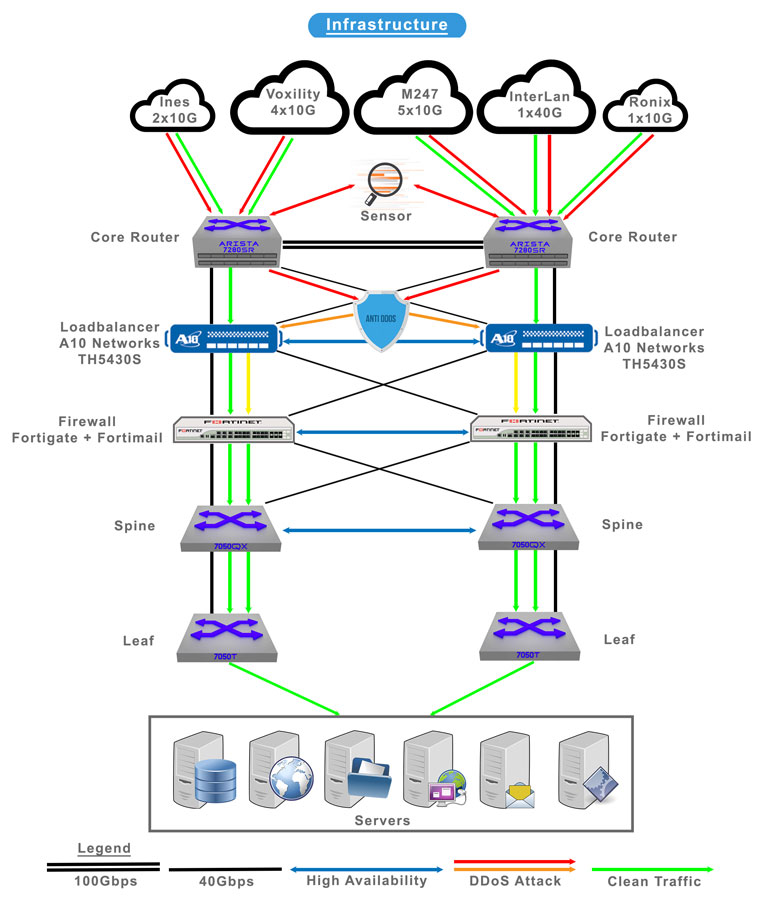 Activity
---
We are active members within the National Association of Internet Providers in Romania (in short ANISP), an active presence in the InterLAN Internet Exchange node, the largest Internet eXchange in Romania, as well as in the Romanian Network Internet Exchange (more on short RONIX), we have peering with all major Internet Providers in Romania, in this case Click Net / Romtelecom, RDS, UPC, as well as their local distributors and through M247 and Voxility peering with most external Providers.
< For this reason we can offer you high access speeds to your site and services, both from inside Romania and Europe, as well as to visitors from other continents. In terms of server stability, we offer an uptime of over 99.9% Tier4, uptime absolutely necessary for every business present in the online environment, regardless of the scope of activity (except those stipulated in the "Terms and Conditions").
We are present in three career neutral Data Centers in Romania: Voxility, M247 and NxDATA-1.
Between the three locations we have a 100Gbps interconnection on a full mesh network structure, and a total of 130 Gbps internet connection : 40Gbps Voxility, 50 Gbps M247, 20Gbps Ines, 10 Gbps InterLan and 10 Gbps RONIX.
IP Transit - Fiber Optic Internet
Through the fiber optic Internet access service we can provide a wide range of access speeds and help you implement what best suits your communication needs.
The service is designed for you. hosting providers or telecom operators that allow the announcement of their IP space to the Internet and the import of Astimp IT Solution routing tables into their routing system.
IP Peering - Internet exchange
This service offers the possibility of traffic exchange between Astimp IT Solution customers and those of your company. The service is provided by dedicated and guaranteed fiber optic connection or the creation of interconnection links made in data centers through BGP sessions.
We have peering links with all significant operators and we are present in the most important data centers in Romania.