DATA CENTERdedicated servers - cloud vps - web domains - ddos ​​firewall protection
We use servers, enterprise hosting equipment and complete redundancy in terms of connectivity, air conditioning, power supply and TIER-4 security systems

Tier-4 data center
We use servers, enterprise hosting equipment and complete redundancy in terms of connectivity, air conditioning, power supply and TIER-4 security systems
Upload / download capacity of over 500 Gbps nationally and internationally
Total transfer capacity up to 3.6 Tbps
Full mesh topology with 100Gbps Networking and 100Gbps Infiniband EDR ports
Private peering with national and international providers
2 x physical connections with each Internet Provider
2 x active BGP sessions per Internet Provider
2 x routing equipment, Arista 7280R
2 x separate and redundant power circuits, 2 x three-phase Sentry PDU with administration, on each Rack
2 x climate - UPS and Generator
M247d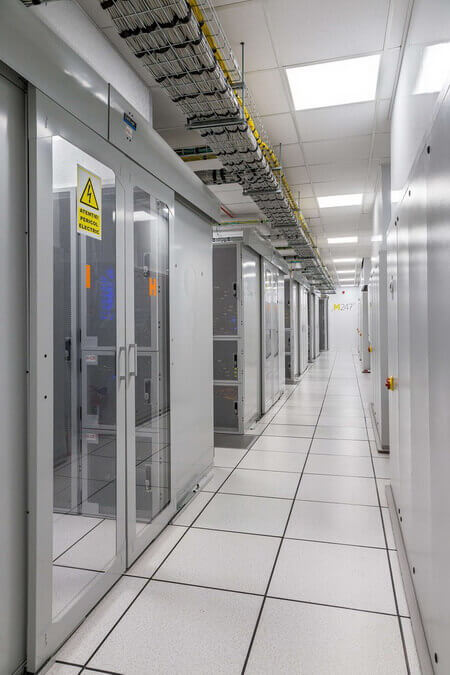 NxDATA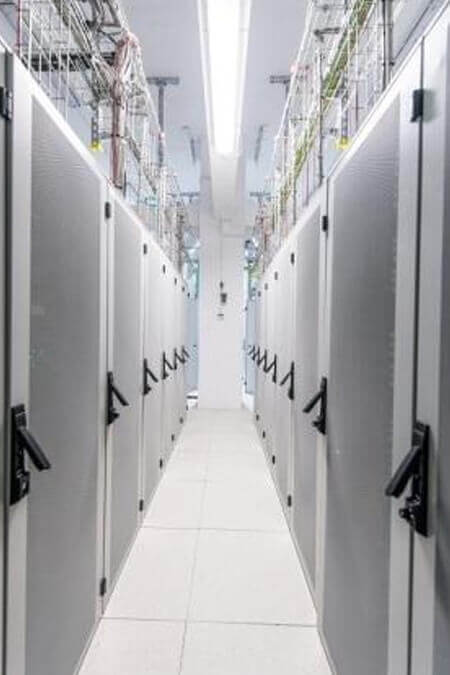 Voxility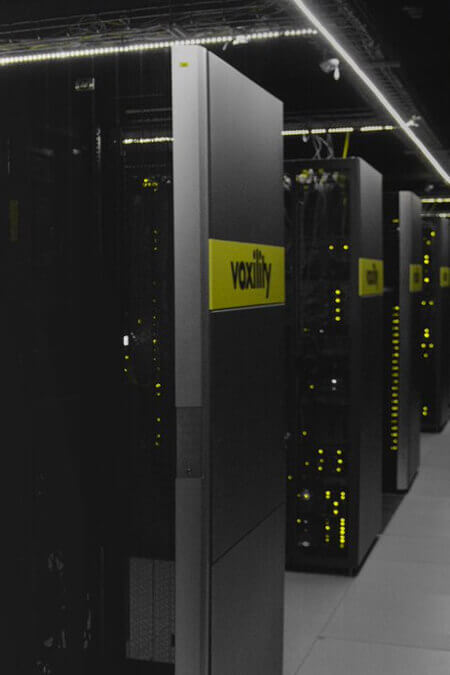 Hardware Firewall Fortigate 1500D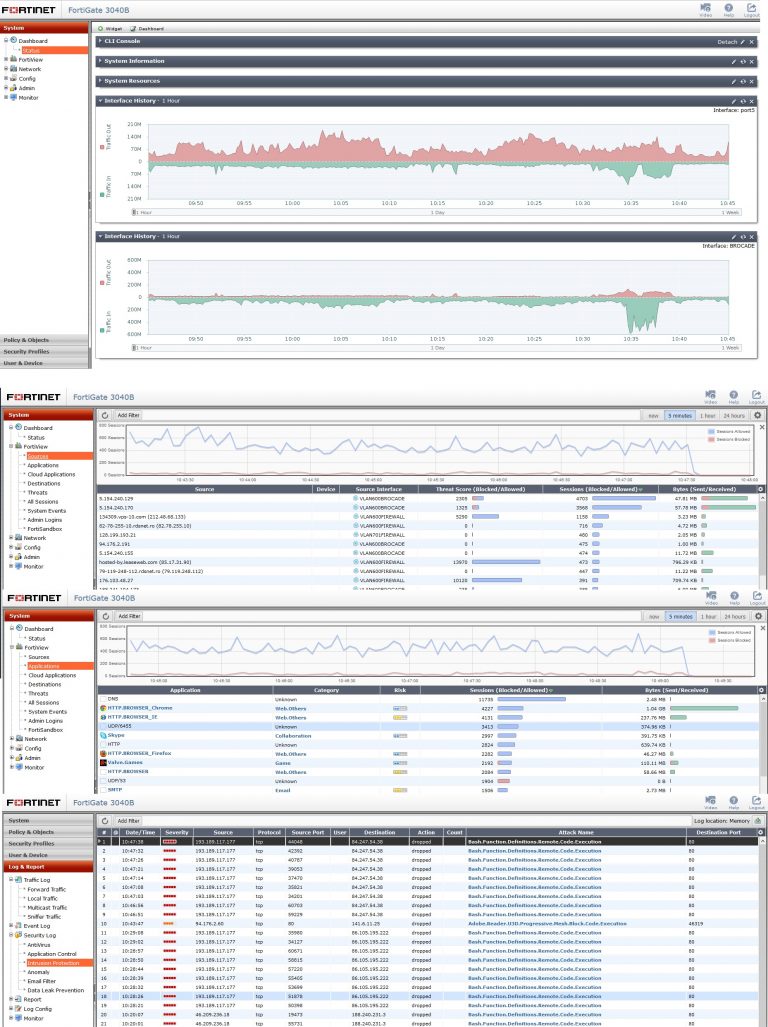 Hardware Firewall Fortigate 1500D
It manages a transfer capacity of up to 80 Gbps (82.5 Mpps) in firewall mode and up to 13Gbps with full IPS / IDS inspection.
Malicious and unwanted traffic is blocked and clean traffic is returned to the main distribution controller. In addition, the 1500D supports both IPv6 and IPv4 traffic inspection and load balancing, providing maximum flexibility for heterogeneous networks.
Antivirus / Antispyware - New filters are continuously fed to the IPS device to keep it up to date with the latest vulnerabilities
FortiCloud Portal - Easy to use, real-time threat monitoring allows the user to optimize their network security
Intrusion Prevention - IPS technology protects against current and emerging network threats
Application Control — Provides granular control, identifies and controls over 1,800 applications, regardless of port or protocol
Web Filtering - Identifies and protects targets, networks, and sensitive information against Web-threatened threats
Provides geo-location security tools
Data Loss Prevention - DLP uses a sophisticated model matching engine to identify and prevent the transfer of sensitive information outside the network perimeter
Firewall Rules - 100,000
Low application latency due to FortiASIC ​​NP6 and SPU CP8,
Virtual Domains - VDOMs allow a single FortiGate system to function as multiple independent FortiGate virtual systems
VPN - Fortinet VPN technology ensures secure communications between multiple networks and hosts, using SSL and IPsec VPN technologies
Advanced Layer-2/3 routing to optimize data center traffic
Ports
16 RJ-45 Autosensing 10/100/1000 Hardware Accelerated Interfaces (IEEE 802.3 Type 10BASE-T, IEEE 802.3u Type 100BASE-TX, IEEE 802.3ab Type 1000BASE-T)
16 SFP Duplex: 10BASE-T / 100BASE-TX: half or full; 1000BASE: full only
8 Hardware Accelerated 10-GbE SFP + Intefaces Duplex: full only
Environment
Operating temperature 32 ° F to 104 ° F (0 ° C to 40 ° C)
Relative operating humidity 5% to 95%, noncondensing
Nonoperating / Storage Temperature -4 ° F to 158 ° F (-20 ° C to 70 ° C)
Relative humidity Nonoperating / Storage 5% to 95%, noncondensing
Performances
Latency < 3s
IPS / IDS throughput 13 Gbps *
Firewall throughput 80 Gbps / 82.5 Mpps
Concurrent TCP 12 Million Sessions
NGFW Throughput 7 Gbps
IPSec VPN Through 17 Gbps
Caracteristici
>
Safe: In-line intrusion prevention system (IPS) with fallback Layer 2 capabilities
effective: over 100,000 security filters and zero-day type respectively vulnerability with IP reputation
Simple: the WebUI control panel and management console are completely customizable and 33% faster than other solutions
Fast: up to 80Gbps throughput with a latency of less than
3 microseconds
Enterprise equipment
Our infrastructure consists only of top equipment such as IBM BladeCenter and Supermicro 4Node model 2027TT-H6RF, used in dynamic and scalable configurations at any time for customer needs. Top Arista network equipment, such as the 7280R, a model that achieves a maximum performance of 3.6 Tbps (Terabits per second) and 5.76 billion pps (packets per second).
The equipment is stacked in state-of-the-art HP racks that offer its own management system over the Internet and the power supply, which is why they are provided with a standard not one but two lines. current backup and 32A / 380V Sentry PDUs with management and monitoring on each outlet. For the interconnection of the racks with the Arista equipment, the equipment is used at the rack level:
Arista 7280R with 6 100Gbps ports + 48 10Gbps Networking ports
Arista 7280S with 4 40Gbps ports + 48 10Gbps Networking ports
Arista 7050QX with 32 40Gbps Networking ports
Arista 7048 with 4 10Gbps ports and 48 1Gbps ports
Mellanox SB7800- 2SFR Infiniband with 36 EDR InfiniBand QSFP 100/56/25 / 10Gbps
A10 Networks TH5430S Load Balancer with 4 40Gbps ports + 16 10Gbps ports
We ensure network security with our own DOS / DDOS protection system and Fortinet Fortiguard 1500D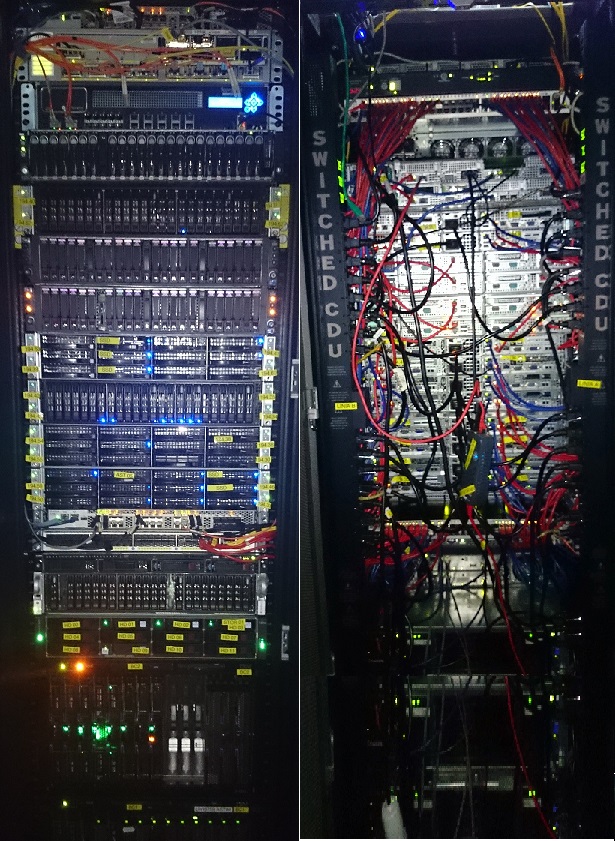 DOS/DDOS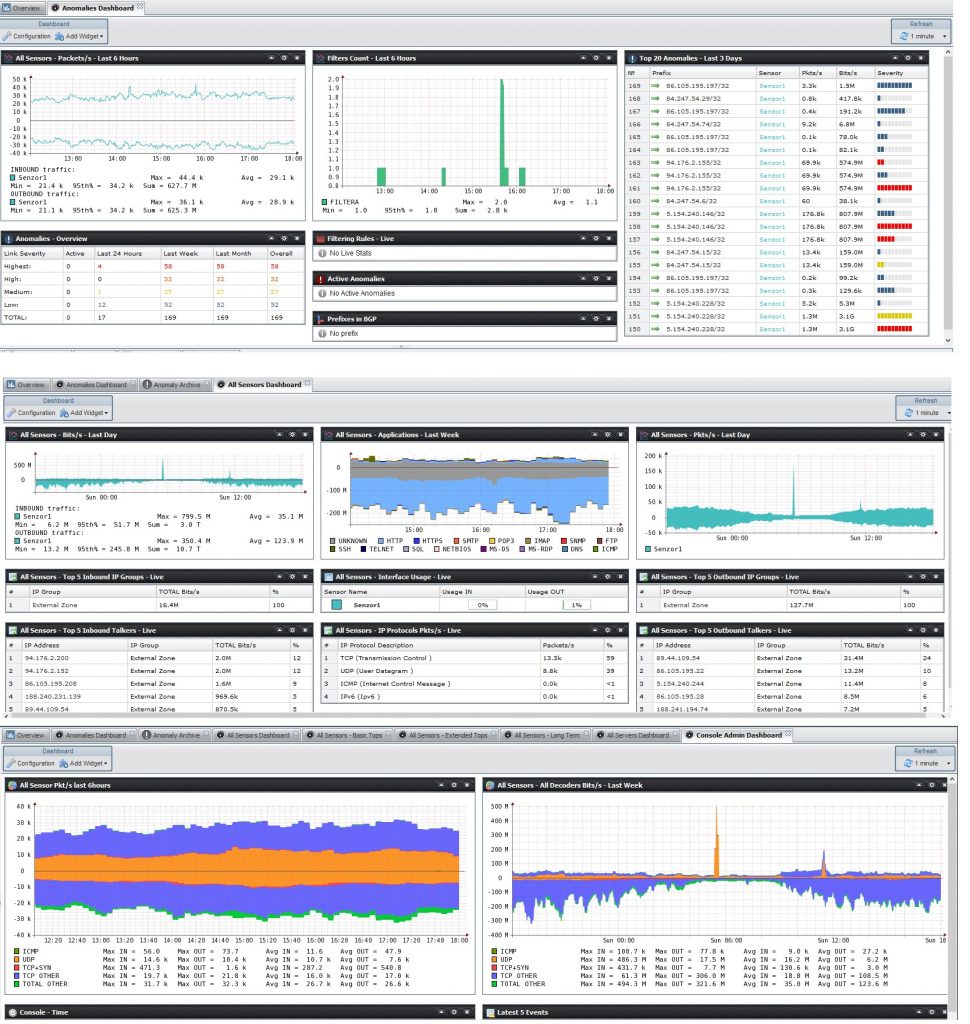 DOS/DDOS
DDoS protection sensor with multi-level technology can notify the upstream provider by BGP routing to stop traffic to the attacked destinations.
The sensor can announce upstream Internet Service Provider (ISP) or a Managed Security Service provider ( MMSP), which provides anti-DDoS services for scrubbing malicious packets.
Flow sensor and packet sensor provide in-depth traffic analysis, traffic accounting, bandwidth monitoring, traffic anomalies and DDoS detection

The filter can clean and / or limit the rate of malicious packets by applying the rules of dynamic filtering on the firewall with stateless software and / or packet filter hardware.
Dedicated filtering devices can be grouped in a cluster of scrubbing cluster. It can protect critical services against attacks without congesting upstream links.
The filter can automatically send notification emails to ISPs from non-spoofed attacks.
The filter can apply filtering rules and ACLs on third-party DDoS attenuators, firewalls, and routers.
DDoS Detection & Mitigation - An innovative traffic anomaly detection engine detects DDoS attacks. Malicious traffic is blocked in a granular manner
Detailed Forensics - View packets and flow records for each attack. Detailed reports of the attack can be sent by e-mail to interested parties
Full Network Visibility - Supports all major traffic monitoring technologies: 100 Gbps sniffing packets, Cisco NetFlow, sFlow, IPFix, NetStream, cflowd and SNMP
Complex analysis - Generates complex reports with aggregated data for hosts, IP groups, interfaces, applications, protocols, countries, ASNs, and more
Collector and Flow Analyzer - Provides a complete NetFlow, sFlow and IPFIX collector. Streams can be stored, searched, filtered, sorted and exported